Reliable solid state RF generators for the process heating and drying sector
The RF heating and drying space has been reliant on legacy tube technology for years. While tube systems are able to heat and dry a wide variety of products, they are known to be unreliable. Users of these systems often complain about facility downtime, inefficiency, and a lack of control over the system.
Then came solid state.
Solid-state technology virtually eliminates the common problems inherent in tube systems. Those who switch to solid state from (6.78 or 13.56 MHz) tube oscillators can expect zero downtime for maintenance, a longer product lifespan, and a higher degree of efficiency.
Download our Solid State vs. Vacuum Tube Quick Reference Guide
to learn more about the benefits of solid state.
Solid-state RF power is finally affordable.
Aethera Tech. has revolutionized solid state RF power. By engineering a generator that is roughly ⅓ the cost of previous generations, we've made solid state affordable for the first time.
The APG7-50 generator * - 6.78 MHz (50kW)
The first affordable high-power solid-state RF generator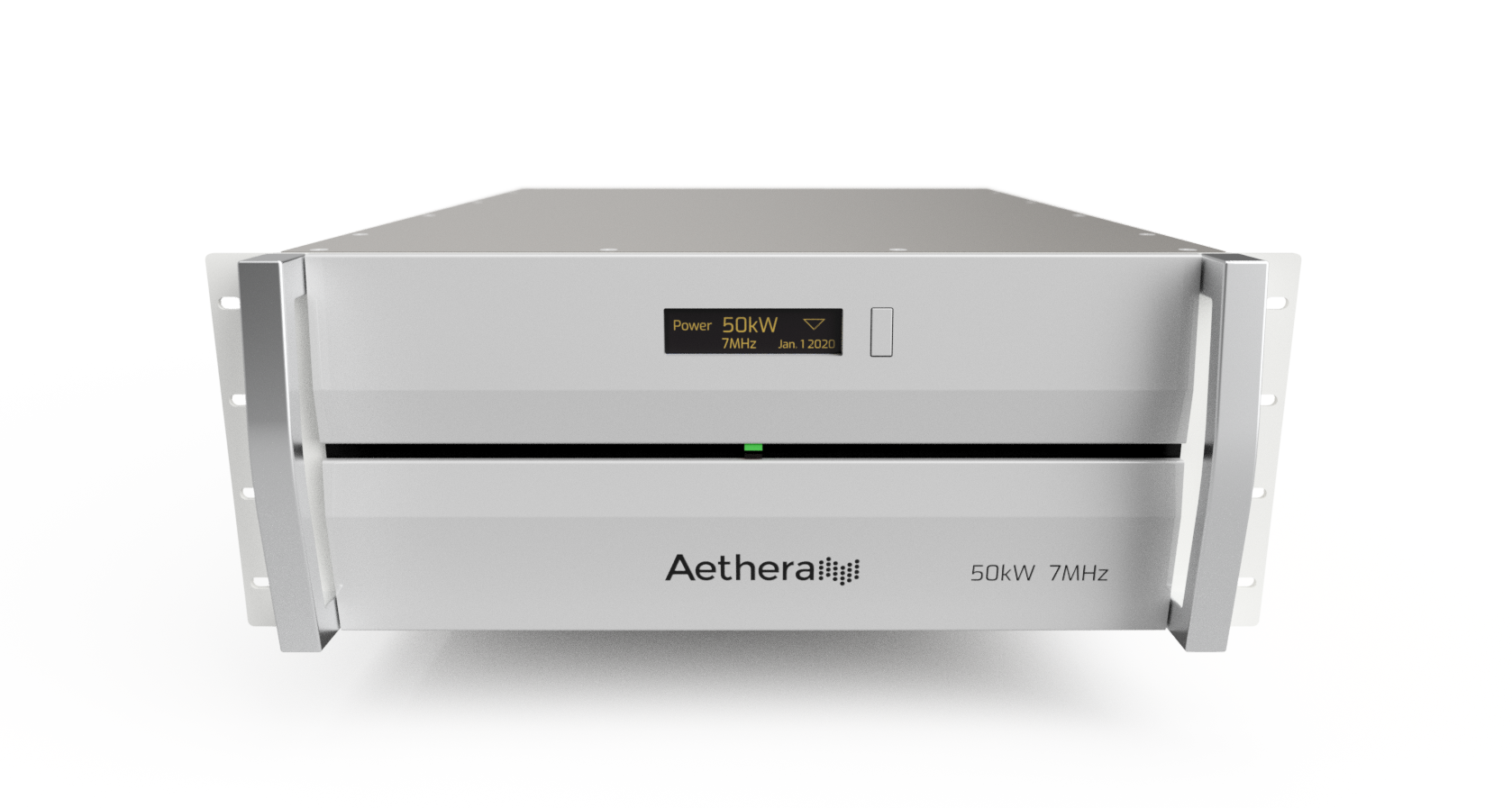 The APG7-50 is a solid-state RF generator designed to solve the many problems that arise with tube technology. After developing industrial RF power solutions for manufacturers spanning various industries, we have developed the first affordable alternative to the traditional tube technology.
*Patent pending
---
Exact digital control
Know exactly how much heat is being applied to your products and depend on it staying at that level. By comparison, old technology has never offered this level of precision.
Unprecedented reliability
With solid state, there is no maintenance required. This means less down time for your operation.
95% energy efficiency
Traditional tube technology is only 60% efficient on average. This could lead to greater than 30% reduction in electrical costs.
Superior flexibility
This generator eliminates the system design limitations of tube technology and offers superior flexibility with a wider range of applications.
Small but powerful
Our innovative new generator architecture results in the smallest and lightest high power generator ever made.
Modern IP-based controls
Monitor from the desktop and easily integrate with industrial controllers.
RF engineering support
Our electrical engineering team is available to support integration into your system and frequency adjustment with installations.
Get in touch
Find out how solid-state RF power can benefit your organization.
Coming soon
Our 13.56 MHz solid state RF generator